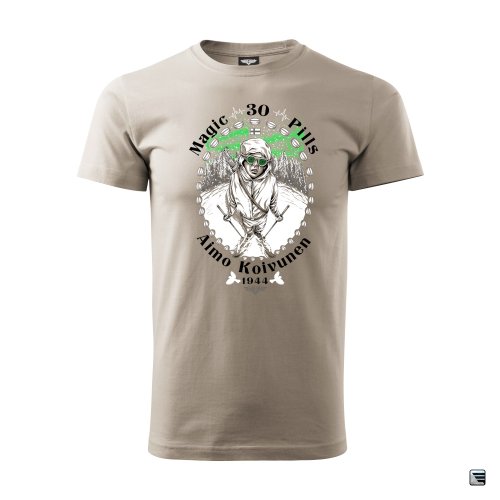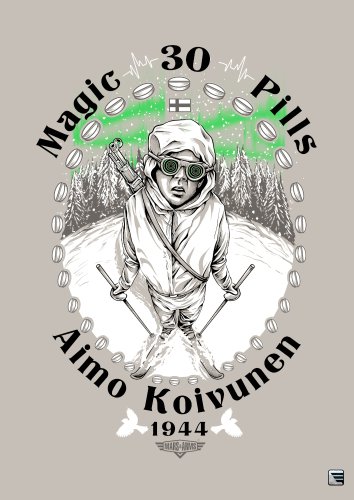 ---


High quality shirt with high grammage. Excellent quality of material and sewing, excellent quality of printing - screen printing. All seams doubled. Reinforcing shoulder tape. The torso is seamless on the sides. Specifications: 200 g/m, 100% cotton, round neck with 5% elastane. More
Product code: MAGICPILLSShipping and PaymentWeight: 0.25 kg


High quality shirt with high grammage. Excellent quality of material and sewing, excellent quality of printing - screen printing. All seams doubled. Reinforcing shoulder tape. The torso is seamless on the sides. Specifications: 200 g/m, 100% cotton, round neck with 5% elastane. More
Product code: MAGICPILLSShipping and PaymentWeight: 0.25 kg
Another T-shirt from the Mars & Arms workshop is coming, which will cool you down a bit.
The winter theme in the collection will expand our range of Finnish warriors. One can do anything for victory and life. To the Simo Häyhä T-shirt we add another icon of the finnish army: Aimo Koivunen.
He deserved his tails with perseverance in the fight and the incredible journey he set out on, 30 pills of meth. His performance is so admirable that he definitely deserves a place in your wardrobe. New T-shirt from Mars & Arms - Aimo Koivunen - Magic Pills is here!
Graphics are strictly copyright protected.
High quality, classic cut shirt
100% preshrunk cotton
Single side print - screen printed with water-based etching ink, iron-on